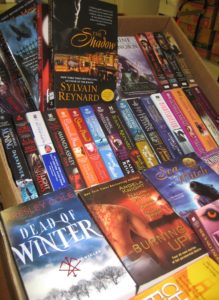 We've been collecting donations since the Spring and are looking forward to offering a enormous selection of reading choices to shoppers.
Are you a paranormal romance novel fan? We have a huge collection of gently used paperbacks and hardbacks for you to browse through thanks to a fabulous donation from an avid collector. Most fiction is priced from $1 – $3 so feel free to indulge yourself.
We also have an exceptionally large number of great DVDs and CDs. Most movies are priced at $2, music CD's at $1. This is a opportunity to grab some great entertainment at rock bottom prices.